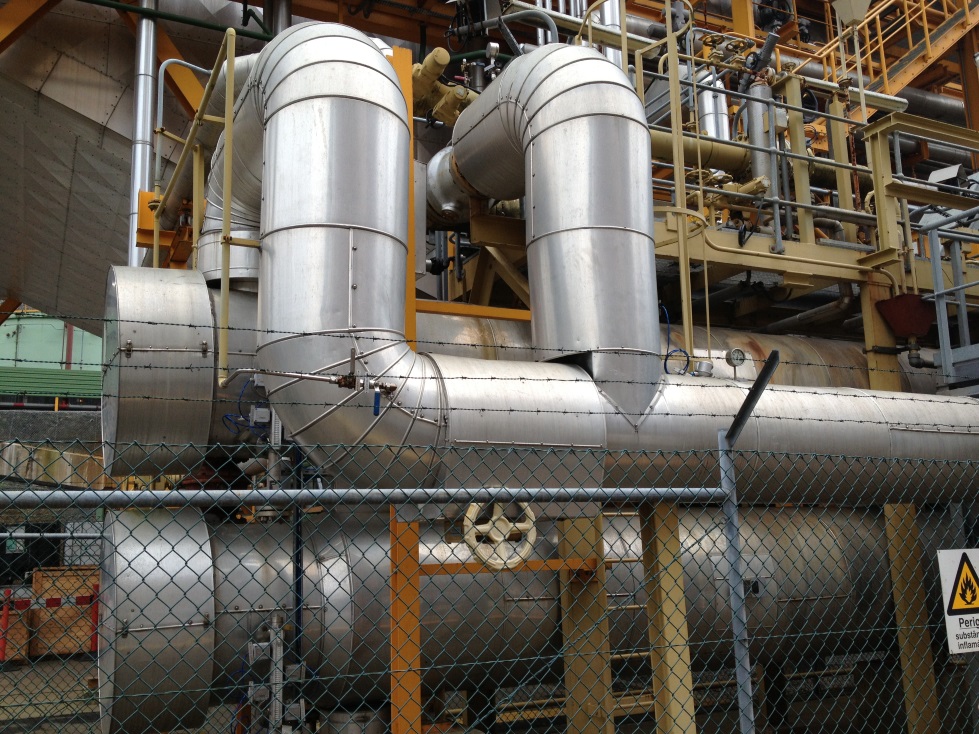 Steam piping and equipment
AE on-line inspections and monitoring are performed on steam piping systems, deaerators, steam headers drums, water walls during their normal operation.
AE capabilities:
AE technology performs:
Overall, global inspection of hot steam piping and equipment for flaws and faulty conditions during operation.
Detection and assessment of flaws of different nature at early stages including creep, fatigue and others.
Detection and assessment of hangers and supports misbalance and other issues.
Identification of zones subjected to dynamical overstresses.
Detection of valve leaks, thermal shocks, water hammering and other traumatic events contributing to origination and development of flaws in piping.
AE system:
AE system consists of set of AE sensors installed with 3-5 meters characteristic distance. On high temperature components with insulation like steam piping, AE sensors mounted on waveguides welded in a small opening of 20×20 cm in the insulation. After installation, the opening is re-insulated and sealed. All steps of installation including welding of waveguides are performed during normal operation.
After installation and calibrations, monitoring is performed for several days under normal and sometimes variable operational and stress conditions. Based on the results, nature and locations of flaws, their severity and etc., a long term monitoring program or application of other NDE, metallurgical investigations are recommended. Typical re-inspection intervals are 2-3 years while in specific cases with significant findings, re-inspection intervals can be 3 months or even continuous monitoring 24/7.
Capability/Property

Ultrasonics

AE

Principle of the method

Material discontinuities are causing reflection and diffraction of artificially generated ultrasonic waves

Material discontinuities, when propagate, naturally release potential energy in form of stress waves

Method of application

Applied locally, in statistically selected, potentially high risk zones

Global inspection, 100% of structure

Evaluation criteria

Criteria based on flaw position, orientation and size

Criteria is based on energy and kinetic characteristics of flaws evaluated from released AE

Detects crack like flaws

Yes

Yes

Detects prefabricated weld defects

Yes

Yes

(when they develop a localized plastic deformation)

Detects creep micro-cracking

Yes

Yes

Detects creep cavitation

–

Yes

(when a large enough volume of material involved into creep)

Distinguish developing and non-developing flaws

–

Yes

Used to monitor flaws

–

Yes

Used to evaluates flaw propagation rate

–

Yes

Identify operational and stress conditions contributing to flaw origination and propagation

–

Yes
Outage independent

–

Yes
AE methodologies and standard procedures:
AE procedures for inspection of power plant systems and components comply with the following standards and guidelines:
EPRI Guideline for Acoustic Emission Examination of Seam-welded Piping.
ASTM E1139: Standard Practice for Continuous Monitoring of Acoustic Emission from Metal Pressure Boundaries.
ASTM E569: Standard Practice for Acoustic Emission Monitoring of Structures during Controlled Stimulation.
ASTM E1211: Standard Practice for Leak Detection and Location Using Surface-Mounted Acoustic Emission Sensors.
ASTM E2374: Standard Guide for Acoustic Emission System Performance Verification.
ASTM E750: Standard Practice for Characterizing Acoustic Emission Instrumentation.
ASTM E650: Standard Guide for Mounting Piezoelectric Acoustic Emission Sensors.